Tech-savvy businesses are turning to augmented reality for marketing, information sharing, education, training or other needs to attract and engage in effective communication. While AR tech started warming up for some years now, the evolution is in the lookout for breakthrough ideas that are designed to bolster the overall customer experience.
There is a new AR cube, a physical cube is in the market that is getting the attention due to the physical product for consumers to feel and is called "NUBE".
So What is NuBe?
NUBE is a simple Extended Reality cube (XR Cube) with the size of an aerobics cube and uses advanced holographs to change itself into the augmented world of varying content.
Cube changes into varied 3D content that is a game for users to interact when seen through the AugRay mobile app. The app has a variety of game choices and the same cube can be used to play a variety of games that are overlaid on top of the cube.
This physical AR cube is a new innovation that reminds users to interact with which is an exciting part of the marketing strategy. A brand can be part of the gameplay and provide actual rewards that are earned and redeemed at the store.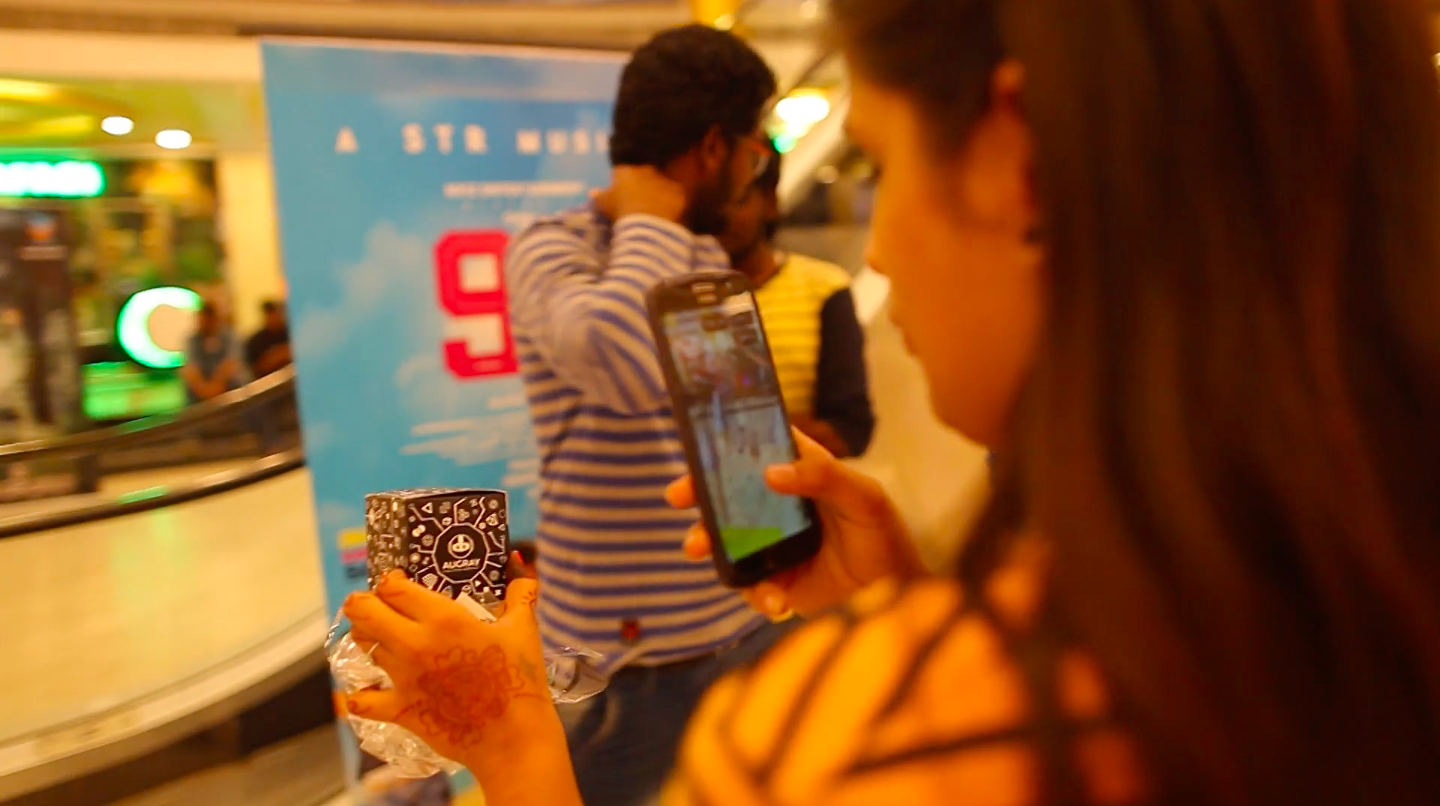 Unlike other mobile games and solutions, which offers in-game rewards that are used for virtual items, the NuBe AR rewards are redeemable for actual, physical products and services. This is not only an innovative AR fun but also earning real rewards of the business. This means a new medium of opportunity for businesses to attract and engage consumers.
In short, the NuBe AR platform not only provides fun and excitement of playing the next-gen games or experiencing the brands' product, but it also generates sales leads, better conversion and increased walk-ins for business.
Why NuBe AR?
NuBe AR is engineered specifically with marketing in mind. It is an attractive AR product for all demographic groups and it's a fun, exciting and has a number of benefits:
A new medium

of excitement in mobile that has

WoW! To attract
Brand products are experienced

rather than views and clicks

A one-time investment

with a captive consumer for a repeat engagement

The ability to produce dynamic, brand-specific content

 that is easily changeable and scalable to meet evolving trends and business goals.

Direct and indirect distribution of NuBe's through various business channels, 

thereby maximizing exposure amongst different regions and user demographics.

The inclusion of celebrity brand ambassadors

 can be brought into the NuBe as a virtual experience to consumers amplifying the returns on the Brand ambassador. (e.g. experiencing the celebrity in consumers home)

Backed by a highly skilled and experienced team of experts, users have access to numerous contents, streamed constantly from the cloud without a need for app reinstall.

Consumer buzz, word-of-mouth, and Social Media.

The new medium of fun while earning real product rewards, AR product experience and access to brand ambassadors (virtually) create a buzz to share across consumers network and social media.

Instantaneous sales conversions and increased walk-ins

compared to traditional marketing solutions while the fun and excitement of AR Cube game keeps them engaged and entertained.

Engage users in minutes-per-impression instead of seconds by constantly engaging consumers with dynamic content

resulting in an increased brand recall factor that produces far better marketing results than the traditional approach of email blasts, prints and digital marketing.

Captive Consumers:

Users who are attracted and engaged are constantly engaged with various entertainment and

Access to in-depth analytics. 

With in-depth data gathered and analyzed on the consumer (who, when and what), the business can tailor the marketing efforts.

Significant ROI

as consumers have deeper product engagement experience on and are retained within the platform to re-engage

A Hard product that sits on consumers desk reminding to engage.

A live Promotional material that varies the content, engagement factors, product experiences, rewards until the life of the product which is for years at a fraction of the cost
Who can benefit from NuBe AR?
Any business who is in any kind of product and service business including who could leverage the product for employee relationships, corporate communications, engagement and other. Here are a few examples.
Arts and entertainment: Movie theatres, entertainment production houses can promote new movies by providing movie content in 3D, games and other forms of excitement to reward, generate sales and increase brand value. Acts as a live promotion material
Retail/brick-and-mortar stores: Traditional retailers use Nube games as a medium to attract and reward while providing brand and product impressions as part of the experience and extend to experience products in XR and an intelligent promotional material that is always live, varies and acts as a channel to generate leads for a long term
Automotive: 

Provide vehicle as part of the game experience, reward, and experience products in XR by converting the cube into the product. It is a significant medium for pre-launch or launch strategy

FMCG:

 Food, beverages and other provide product experience on the Nube, leverages Nube games to reward, retain and reengage consistently with varied contents.

Consumer appliances and electronics:

 A great medium for pre-launch, seasonal attractions, explain new or complicated features, and could even provide valuable troubleshooting common problems in XR.

Theme parks:

 Amusement parks and carnivals to provide a fun engagement by varied contents by location, seasonal, time & duration during consumer visits and after.

Corporate communications, vendor and employee engagement: A great medium to promote information about the enterprise,

It's ideal for promoting your company's mission statement and strengthening referral recruiting

to educational benefits and much more
Regardless of your exact profession, sector, or area of expertise, NuBe is a new medium of XR to attract, engage and retain consumers for longer duration and all of these through the most sought of a smartphone.
How does NuBe AR work?
NuBe AR lets you seamlessly deliver augmented 3D contents superimposed on the cube. It does so by displaying your desired content seen through the free AugRay app. What starts out as a simple physical cube quickly evolves to provide fun, entertaining and informative content. All you would need is the simple aerobic Nube Cube and a smartphone.
Simply download the free AugRay app from play or app store and see through the camera. AugRay app recognizes the Cube as a whole and superimposes the configured 3D content that is constantly tracking the cube as long as the cube is within the camera view.
Content is streamed and or downloaded from the cloud that makes the content dynamic by location, seasonal, time and various other user attributes.
NuBe AR (cubes) are distributed directly and by business channel- partners

. By becoming an Augray partner, the business shall partner with various other complementary business to promote their business in the new medium.

The device fits comfortably in the palm of your hand

 or on a nearby table or desktop. This makes it a portable solution that is easily transported, shared among colleagues or gifted to friends or family members. They even make great stocking stuffers during the holiday season.
It's a platform that is designed for maximum convenience and portability.
Get started today!
For more information on NuBe AR, or for details on any of the products, services or solutions we offer at Augray, please visit our official website at AugRay.