The retail space is overpopulated. With so many players fighting for the market share, it's very tough for brands to stand out. Brands spend thousands of dollars every year on marketing and promotions, but with same old marketing tactics, they are having a hard time making an impact. To add to their woes, customers nowadays are becoming desensitized to traditional marketing methods.
To come over all these, brands and retailers are considering new and innovative technologies to capture customer attention. one such technology brands and retailers are looking to is Augmented Reality (AR). Ever wonder how Augmented Reality could be implemented in the retail industry? And how would it help to streamline brands to stand out in the market from the competition? Read on!
Augmented Reality (AR) is a best-kept secret in the retail industry. It adds the engagement angle by providing customers with an immersive 3d experience. AR apps can be accessed through smartphone and tablets. Let's understand a few practical use-cases of Augmented Reality in retail space.
To Enhance Shopping Experience Online
From Retail outlets to online marketplaces to products coming alive in your hands, the world of retail has come a long way. In the USA, 9 percent of in-shop and 30 percent of e-commerce purchases are returned. Sometimes finding the right match of a thing can be tricky, and brands are ready to help their customers on this.
One of the most popular examples of Augmented Reality in retail commerce come from the furniture giant IKEA. Using the AR app, IKEA allows customers to browse the products from the online catalog and then it integrates the virtual furniture in customer's environment.
This gives users an immersive experience and eliminates all the apprehensions shoppers have while making the purchase.
To Localize Businesses
The number of smartphone users is increasing with every passing day and this trend doesn't look like slowing down in the near future. According to a study, 70% of users do shopping using their smartphones and this number is also on the rise. This leaves a great opportunity for AR to tap.
All the smartphones today have powerful GPS and compasses that make it possible to know exactly where it is located and what users are looking at. AR apps can take advantage of this to show people information about their surroundings including what businesses are nearby.
This way AR makes it easy for retailers to be matched up with relevant customers.
To Expand Your Reach With Expanding Footprint
The uses of AR doesn't limit to leverage localized experience. It even helps in expanding a business to new locations without the enormous costs of constructing a physical entity or paying for real estate.
One of the best examples of this is China's largest online grocer- Yihaodian. It's using AR to bring its products to the people without building a single store. The retailer has set up 1,000 "virtual" stores in parking lots, parks and in front of famous landmarks. These stores are completely invisible to people who do not have their AR app installed on smartphones. But, as you install the Yihaodian app on your smartphone, you'll be able to see an entire grocery store through your screen.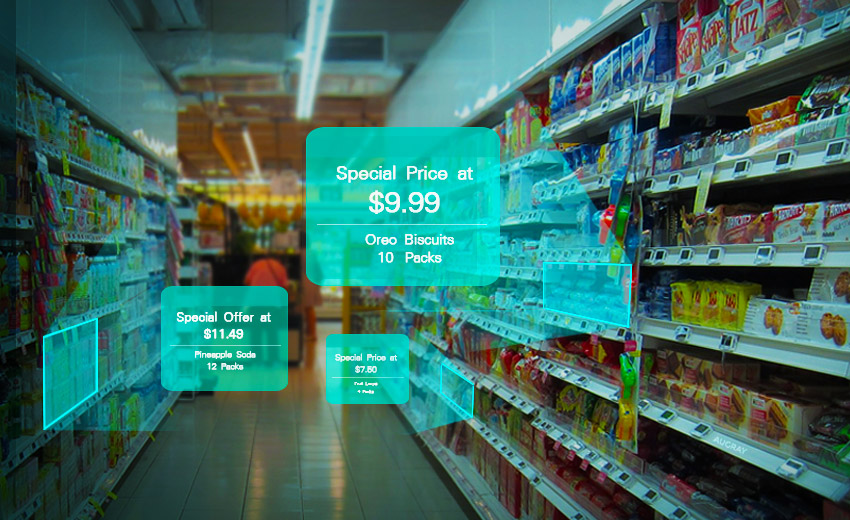 Shoppers can walk through the virtual stores, select the items simply by tapping on the smartphone or tablet screens and then arranging to have their groceries delivered directly to their homes when they're done.
Ending Note
As a concept, Augmented Reality is fascinating to shoppers. With so many benefits and positive prediction of market growth, there's no wonder Augmented Reality is rapidly becoming a hot ticket for marketers and retailers alike. The reason why retailers should look into it today is that it is much more mature now, and blends better with current methods of purchasing.
AugRay works to make the customer experience more interactive, rich and engaging so that it can add value to the service, creating brand awareness and customer loyalty. If your company is planning to incorporate Augmented Reality into their day to day or promotional and marketing activities to enhance customer experience, then contact AugRay today to get the most suitable AR solution for your brand.