Bringing Movie Promotions + To life
eXtended Reality gives an edge to your 360° Marketing Campaigns & get 10X results through Digital Campaigns, TV commercial, Talk Shows & Success Meets, Radio & Newspaper Ads, Audio launch & Promotional Events and PR Junkets, Optimize your media spends and realize higher ROI with XR enabled campaigns, it's more than just plane teasers, trailers, audio release, posters, and Ads. It is highly interactive and builds an emotional affinity with the audience.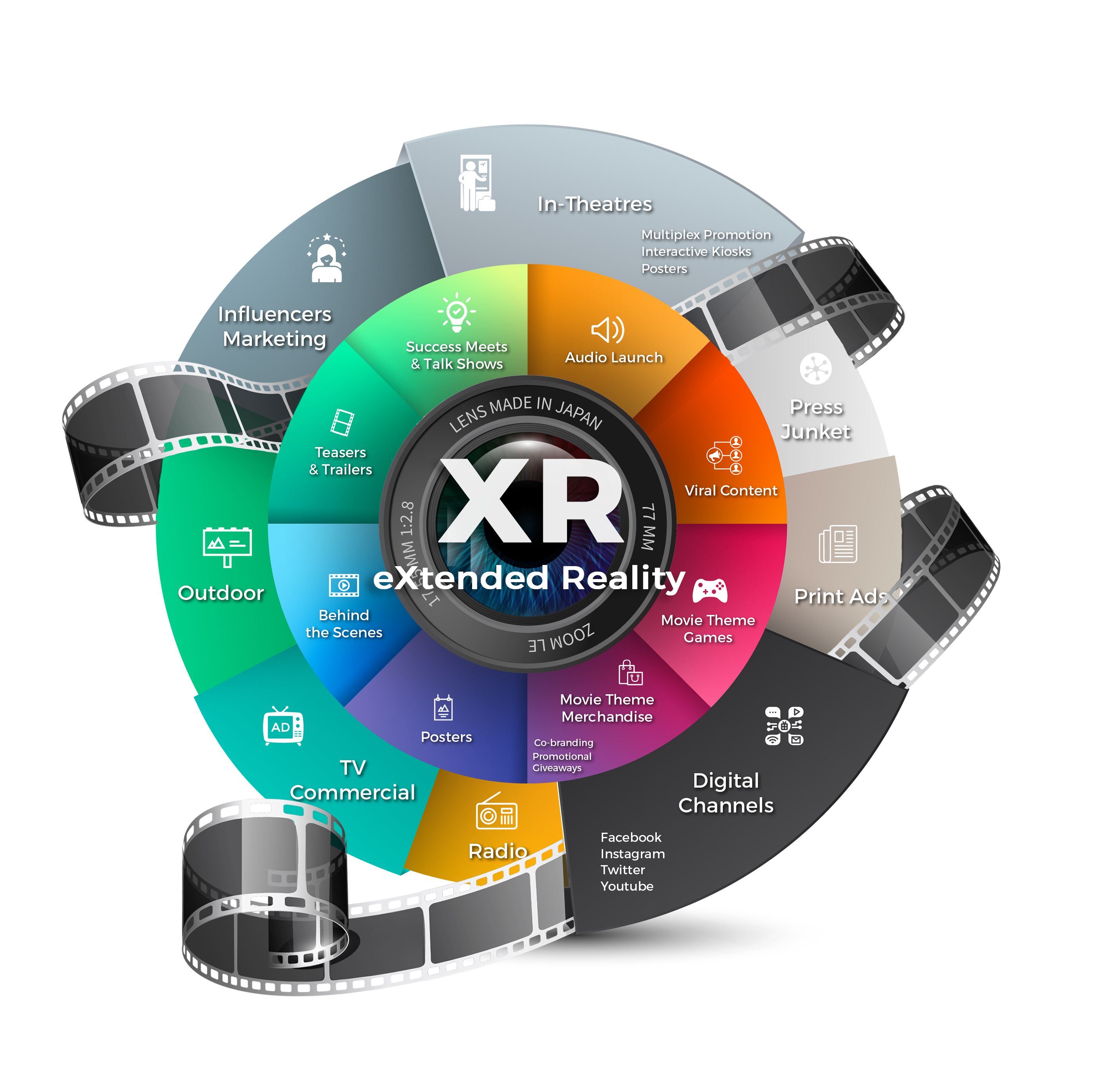 Why eXtended Reality?

SALES UPLIFT

DWELL TIME

CLICK THROUGH RATE

UNAIDED BRAND RECALL

ENGAGEMENT RATE

IMMERSIVE EXPERIENCE

4 MIN MORE ENGAGEMENT THAN TV ADS

ROAS (RETURN ON AD SPEND)
Video XR
Engage your audience with the unique XR experience & make them part of your video content.
Video XR enables your audience to participate in engaging promotional content, capture themselves with their favorite stars, singers or popular movie cast with newly released songs, dance numbers, trailers or action scenes.
WebXR Campaigns
Faster & Hassle-free XR experience using Web, no mobile app is required.
Enable your audience to experience your exciting AR & XR campaigns with just a click of a button or quick scan using their mobile phone camera. It is cost-effective and can be deployed faster, consumes less memory and load time.
DisplayXR Campaign
Enable XR movie promotions with traditional methods!
Digitize your traditional posters, newspaper ads, In-theatre display and Billboards to interactive movie promotions, engage your audience with an immersive experience and increased dwell time. Integrate traditional promotional methods with your digital campaigns with innovative webXR campaigns, allowing your audience to share the experience on social media to amplify organic reach.
XR Live
Enable BTL movie promotions with exciting & engaging live experience!
Provide a unique experience to your audience at multiplex & shopping malls with movie characters, actors, movie sets, allowing the audience to physically participate in the sensor-based & image XR activity with increased dwell time and immersive experience, which will create a personalized and emotional affinity.
PlayXR Gamification!
Engage your audience with movie theme-based games (With or Without Mobile App)
Augray's PlayXR platform combines numerous XR re-skinnable Games and a Rewards system, it enables to engage your audiences with movie theme-based gamified campaigns and engage for a longer duration. rewarding mechanism helps to deploy customized campaigns to redeem the rewards to win free movie tickets and the chance to meet celebrities etc.
Brands we have been delighting