Why eXtended Reality?
AugRay enables brands to redefine consumer experience, with informative, explorative and multi-sensory eXtended Reality solutions.

SALES UPLIFT

DWELL TIME

CLICK THROUGH RATE

UNAIDED BRAND RECALL

ENGAGEMENT RATE

IMMERSIVE EXPERIENCE

4 MIN MORE ENGAGEMENT THAN TV ADS

ROAS (RETURN ON AD SPEND)
XR Product Visualization
Enable customers to experience your product through Online & Offline XR Campaigns.
eXtended Reality enables consumers to experience your product with ease that transform into digital models, which gives an immersive experience through their mobile device camera with just a click or a quick scan. Web-enabled XR doesn't need any mobile app downloads making it hasslefree for consumers through online or offline marketing efforts.
Online Product Fit
Blend e-commerce with immersive and interactive XR shopping experience.
Uplift your online sales by XR enabled online shopping experience, enabling customers to see real form and fit even when buying online. Whether it is to configure furniture or electronic appliances at home or preview different colours/designs of watches on the wrist before purchase, consumers get timely point of sales insights.
Virtual Buddy
Create an emotional affinity with your brand through Virtual Buddy.
Present your very own branded virtual buddy to customers. It can be taken home, trained and will be capable of tons of animations as it grows. Virtual buddies will greet their owners when they return to retail businesses / restaurants. Augray's PlayAR platform helps you to reward customers in-game, at retail points and expands game levels to keep them coming back to your outlet.
XR-Aided Retail
Engage your customers in-store & online to increase sales.
Unlock the world of rich & immersive in-store & online retailing where customers can view/ match/ customize products virtually. Convert sales and build trust with customers by augmenting specifications, nutritional information, ratings/ reviews and more.
Exciting XR Engagement
Engage your audience with increased dwell time with interactive XR enabled BTL promotions.
Provide an immersive experience to your audience like playing football virtually with favourite stars and taking a selfie together. Leverage the ultimate retention platform with XR games powered by brand sponsored rewards.
Wander VR
Transform travel experiences from drawing rooms to destinations.
Create virtual tours for destinations, hotels, attractions and enable travellers to plan. Augment monuments in the location with visual insights. Augray's WanderVR powers destination exploration in a portable and vivid way.
PlayXR Gamification & Rewards
Engage your customers with gamified brand campaigns.
Augray's PlayXR platform combines numerous XR re-skinnable Games and a Rewards system, it enables you to engage your customers with tailor-made gamified campaigns to tell your brand stories, engage users for a longer duration, upsell your products and rewarding mechanism leading to increased sales.
Video XR
Engage your customers with the unique XR experience & make them part of your video content
Video XR campaign enhances your promotional digital & non-digital campaign performance with increased dwell time, immersive experiences and participation, it amplifies online reach by triggering excitement of audiences to invite & share it with their friends and loved ones. All of this is possible by giving the audiences a seamless experience with just a web-link click or a scan from the mobile device without installing any mobile app.
Top Reason Why You Consider AR/VR Technology
Over 90% of businesses are considering virtual and digital enablement, including the life sciences industry
AR/VR enables to rebound faster in this new normal and can deliver ROI over 10x through immersive engagement
Up to 10 minutes Surge in pharma meeting engagements using XR
MR remote auditing enhances total quality management and compliance adherence
More than 50% of the physicians want AR-detailing of the products
AR-detailing can reduce the average length of product demos to 90 to 120 seconds
AR/VR to attract 3.4 million users in healthcare by 2025
XR saves pharma sales and pharma marketing costs by 40%
AR/VR can reduce training times by over 60%
Engage XR campaign in your End to End sales cycle and not a one off
AugRay – A Patented Company - RoadMap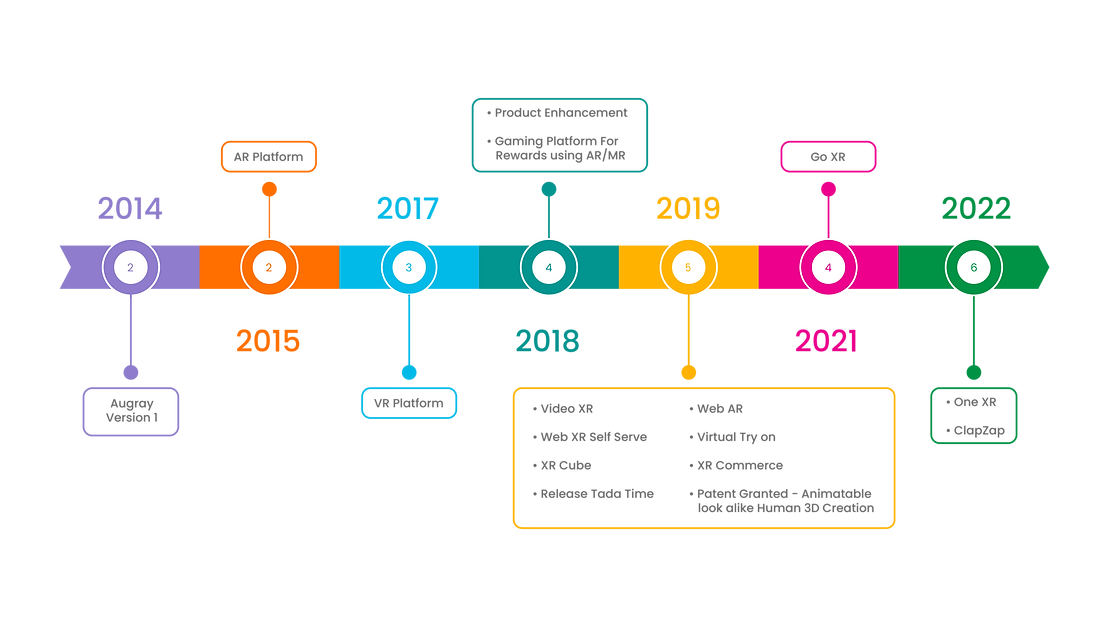 Brands we have been delighting